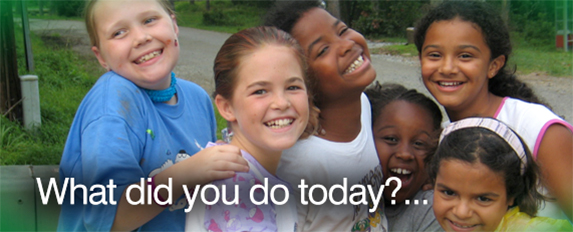 for girls
Where do you want to go? What do you want to do? Who do you want to be? Girls can do anything and Girl Scouts provides the vehicle to do it.
Girls just like you, who go to your school and live in your neighborhoods, are exploring our country and new ones—surfing in California, climbing the ruins at Macchu Piccu in Peru, or studying geology in Iceland. They're whitewater rafting or backpacking and sleeping under the stars. They're exploring science that surrounds us every day—in space, on Earth, in wildlife, in our bodies, in our food, in technology, and more. They're directing community service projects that make a difference and leave a legacy in their communities. With Girl Scouts, all of this and more is possible. The world is yours!
Whether you belong to a troop or group, or decide to venture out on your own as a Girl Scout Juliette, there is something for every girl in Girl Scouting and an opportunity for you to build confidence and courage every step of the way.
Check out how you can get involved through our Pathways and Journeys. Take a look at our programs and register for as many as you like or what you have time for. Ready to become a Girl Scout? Click here.
Be sure to visit Girl Scouts of the USA's Girl's Only page for games, crafts, activities and more just for girls!
"I can be…" Activity book for Daisy and Brownie Girl Scouts