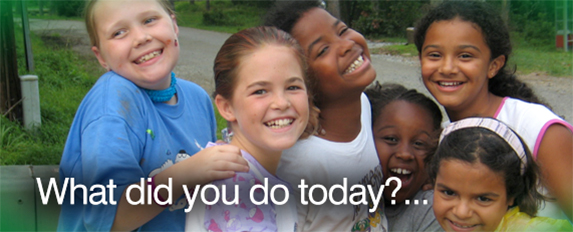 how to get involved
Girls today are busy! We know that it is sometimes difficult to fit Girl Scouting and traditional troop meetings into your schedule, especially in middle school and high school.
Girl Scouts of the USA has introduced six Pathways: Troop, Camp, Events, Series, Travel and Virtual, in which you can join or participate in Girl Scouts. You can choose one, all or some of the Pathways, though some are geared toward different grade levels There's bound to be one Pathway (or many) that will fit your schedule!
Travel
The Travel Pathway offers girls leadership opportunities and cross-cultural understanding through local, regional, national, and international travel. Girls prepare, plan, earn money, and participate through group travel, council-sponsored trips, or nationally sponsored excursions. The travel pathway also facilitates appropriate progression; for example, younger girls participate in short, local trips to prepare them for longer, international trips as they progress through grade levels.
Series
Series offerings are a sequence of linked program sessions offered by the Council or community partners that relate to a specific theme or purpose and feature experiential learning. Series programs at GSCM include the Girl Scout Bowling League and Patriot Girl (a part of Reading Rocks). Girls choose to participate in an entire series as a complete program package; series events may be short-term or longer-term. The intent is to engage the same group of girls throughout the entire series of program opportunities.
Events
The Event Pathway features events that are stand-alone program offerings; examples include Legislative Day, World Thinking Day, the Women's Leadership Forum, Big Outdoors Event, and the Science & Tech Summit. The primary difference between events and all other pathways is that different girls participate in each event, as opposed to one group of girls coming together regularly. Girls in this Pathway choose events that fit in their schedule and align with their interests.
Camp
The Camp Pathway features day, weekend and resident experiences that introduce and explore the out-of-doors. A defining characteristic of this Pathway is that it is an outdoor, condensed experience.
Troop
The Troop Pathway offers the same group of girls the opportunity to participate in a variety of activities, usually over a span of nine to twelve months. Girls may join at any time during the troop year. Note: A troop that also goes camping or travels as a group is still operating in the troop pathway (not the camp or travel pathways).