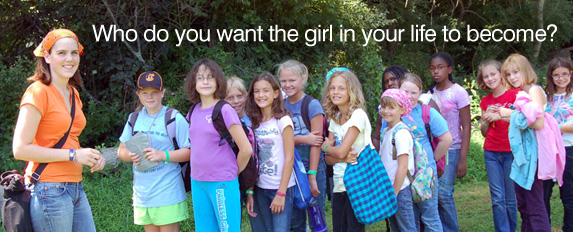 parents faqs
Membership
Q: How can I be sure that Girl Scouting is a good match with our family's values, heritage or traditions?
A: The Girl Scout mission – building girls of courage, confidence, and character, who make the world a better place — guided by the Girl Scout Promise and Law is what defines the Girl Scout Movement. The Girl Scout Law clearly spells out our values: honesty, fairness, friendship, consideration, caring for others, courage, strength, responsibility, and respect, both for oneself and for authority. We regard these values, as we have for nearly a century, as a solid basis for a life of leadership, integrity, and service. Girl Scouts have always had a deep and very longstanding commitment to inclusiveness. We welcome and embrace girls of every race, ethnicity, level of ability and religion.
Q: How can my girl become a Girl Scout member?
A:Register as a Girl Scout by contacting Jennifer Gibbs at jgibbs@gscm.org or 410.358.9711.
Q: How old do you have to be to become a Girl Scout
A: Girls can register as Girl Scouts from Kindergarten though 12th Grade. Adults working with girls can join as well.
Q: Can my girl become a Girl Scout without being part of a troop?
A: There are many ways girls can take part in Girl Scouting. Depending on their free time and interests, they can register individually, for camp, as part of an interest group, or join a troop. If a girl registers individually, she may want to take part in one or two group events, like camp or a council-wide event.
Q: How do I register my girl and find a troop if we are new to the area?
A: Register with Girl Scouts of Central Maryland by contacting Jennifer Gibbs at jgibbs@gscm.org or 410.358.9711. You will then be notified about troop openings in your area or placed on the troop waiting list.
Q: How do I apply for financial assistance?
Need-based financial assistance is available to all registered Girl Scouts. The Financial Assistance Application can be obtained from the resources section of our website or from the Volunteer Resource Center at vrc@gscm.org.

Materials
Q: Does my Girl Scout need books?
A: Girl Scouts recommends having books because they were designed to enhance the experience—a lot of the information needed to participate fully is included in the books.
Q: Where can I get the books?
A: You can buy books and awards books at the GSCM Store. Sometimes, groups use their funds to purchase books for members, or girls who have moved up in grade-level pass their books down to younger members. Ask your local library if they have copies on hand that can be checked out.

Uniforms
Q: Do I have to buy a uniform for my Girl Scout?
A: The GSUSA National Board updated the Girl Scout uniform policy as of October 2008 to reflect the changing needs of our members and transformation of the Girl Scout Leadership Experience. Girl Scouts at each level have one required element (Tunic, Sash or Vest) for the display of official pins and awards, which will be required when girls participate in ceremonies or officially represent the Girl Scout Movement.
For girls in grades Kindergarten through 12th, the unifying look includes wearing a choice of a tunic, vest, sash with their own solid white shirts and khaki pants or skirts. Girl Scouts in high school can also wear a scarf that unites their look with the sisterhood of Girl Scouts around the world. For adult members the uniform is a Girl Scout official scarf, or tie for men, worn with the official membership pins, combined with their own navy blue business attire. Girl Scouts at the Daisy and Brownie levels will continue to have a full uniform ensemble available.
Q:Where do I place pins and badges on the uniform?
A: Check out this resource from Girl Scouts of the USA: Where to Place Insignia . A couple of hints:
Some insignia come in iron-on format, but not all. Check and see before you iron them—non-iron-on awards will melt if they are ironed.
The insignia tab is a great tool. Membership pins can be placed onto it and then be removed easily when the uniform needs to be cleaned.
Q: Where do I buy uniform pieces?
A: You can purchase uniform pieces through the GSCM Store.

Cookie Program
Q: Does my Girl Scout have to sell cookies?
A: Individual participation in this Girl Scout program activity is voluntary, however it is council policy that troops must participate in the Girl Scout Cookie Program to be eligible to participate in other money-earning activities. Girls gain life skills such as teamwork, money management, and entrepreneurship through the Cookie Program. This activity also provides Girl Scout councils with revenue to support Girl Scouting in local communities, including a portion that goes back to the Girl Scout troop/group selling the cookies.
Q: What role do I have in Girl Scout Cookie activities?
A: A parent/guardian can help her/his girl by:
Giving permission for her to sell Girl Scout Cookies.
Attending the cookie activity training for her troop/group.
Helping her set and meet her personal goal(s) and her groups' goals.
Helping her observe all safety rules and guidelines outlined in materials sent home by the local Girl Scout council.
Helping her understand that you will be working with her in a supportive role; adults, however, should not assume sole responsibility for selling cookies.
Helping to network with colleagues so that she can contact co-workers and family members to purchase cookies.
Providing transportation to cookie events or special sales areas, like those at the mall or outside a grocery store.
Providing a safe place for the money collected, as well as frequent drop-offs of money to the cookie manager.
Paying for any cookies eaten at home.
Supporting the national Girl Scout policy that Girl Scout Cookies may not be sold on the Internet by anyone at any time (see Can I purchase Girl Scout cookies online?).
Q: Where does the money earned from Girl Scout Cookie sales go?
A:The best way to understand where the money goes is by picturing a cookie. A piece of the cookie goes to pay the baker for making the product. Another piece goes to the local Girl Scout council to support Girl Scouts in its area, and a third piece goes directly to the group selling the cookies.

Camp
Q: How can I register my girl for Girl Scout camp?
A: Check out our Camp pages for information about our current camp offerings and how to register. If you need further assistance, contact Connie Adams at cadams@gscm.org.
Q: Are your camps ACA Accredited?
A: Camp Conowingo's summer resident camp is accredited by the American Camping Association (ACA). Every three years the camps undergo a thorough review by outside camping professionals. We also adhere to Maryland Youth Camp regulations.
Our other three camp properties (Camp Whippoorwill, Camp Woodlands and Camp Ilchester) are inspected by their local county jurisdictions and have all necessary permits for yearly operations.
Q: Is there financial assistance for camp?
A:Need-based financial assistance is available to all registered Girl Scouts. The Financial Assistance Application can be obtained from the resources section of our website or from the Volunteer Resource Center at vrc@gscm.org.